Army dissident feared tortured in underground Transnistrian dungeon
by Mark Worth
Coalition Co-coordinator
In a prison cell six meters under the ground, in one of the most sequestered places on Earth, sits Alexandru Rjavitin – a whistleblower without international attention in a country without international recognition.
Rjavitin has been held captive for the past month in a dungeon in Tiraspol, the Moldovan city that the breakaway land of Transnistria considers to be its capital. According to activists and media reports, he has been denied food, medical attention and even visits from his mother while being confined to the subterranean "militia detention isolator." People close to the situation worry he is being tortured to coerce on confession on fake charges.
Transnistrian authorities grabbed the 25-year-old Moldovan citizen from his family home in the small village of Pervomaisc last December 18. Rjavitin had been wanted since 2015, when he fled to the Moldovan capital of Chișinău rather than forcibly serving in the Transnistrian army. After he was drafted by what the NGO Promo-LEX calls "paramilitary groups," Rjavitin said he suffered torture, bullying and extortion by military officers.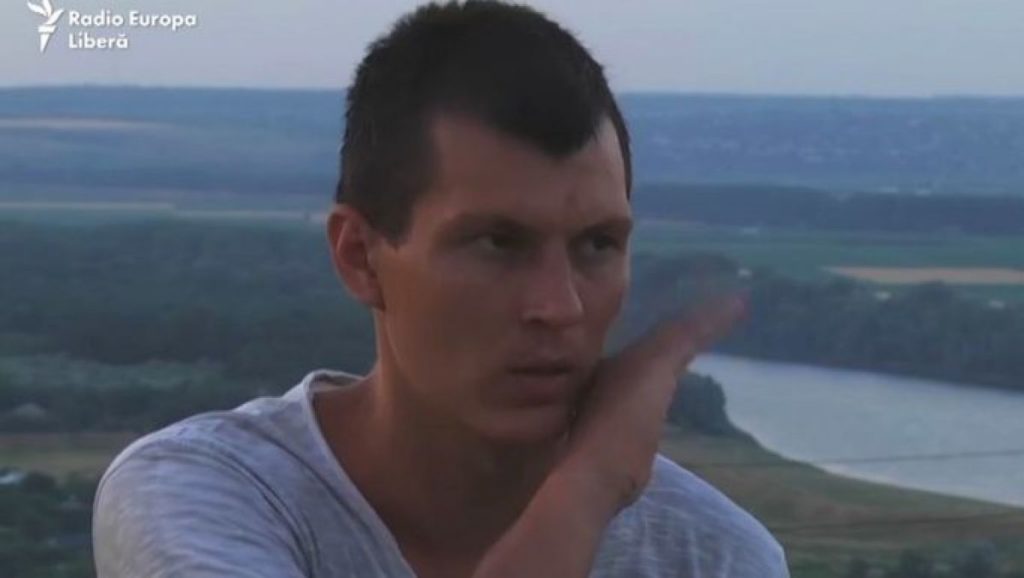 To escape, he swam across the Dniester River and walked for three days to Chișinău in his military uniform and flip-flops. There, Promo-LEX provided legal and other assistance that enabled Rjavitin to stay in Moldova and find a job.
Transnistria – officially known as the Pridnestrovian Moldavian Republic, or PMR – is a 15-mile-wide strip of territory lodged between Moldova and Ukraine. The breakaway state has its own parliament, military, postal service, money and national anthem. It's the last remaining country in the world with the hammer-and-sickle on its flag, and the only place known to have coins made of plastic. Not acknowledged by the UN, Transnistria is officially recognized only by three other breakaway lands in former Soviet Bloc republics.
In a documentary produced by Radio Europa Liberă, Rjavitin recounted and demonstrated widespread abuses within the Transnistrian military – in particular against young draftees.
"Very often the soldiers are beaten and humiliated. There are many types of hits. I can show one. You lie down, put one hand behind your back, and you are hit with the boot in the chest with such power that you overturn. The boot weighs a kilo and a half. Given the power of the blow, it's like two tons. It hurts really hard. It can just break your ribcage."
In the film he acted out a punishment called Festal – "when you put your hand on your cheek and you are hit either with a fist or a foot. The blow is absorbed by the brain and hurts very hard, but there are no bruises or traces."
"Chaos and disorder reign in the army," Rjavitin told Radio Europa Liberă. "Nobody monitors the situation. There is no control. Every man who goes into the army is broken and mocked to make money."
In the eyes of authorities in Tiraspol, writes the Moldovan media outlet AVA, Rjavitin "committed the worst of sins: he publicly talked about what is really happening in the Transnistrian 'army'." He reportedly has been charged with high treason and disclosure of state secrets, for which he could be imprisoned for 20 years.
"Military service obligation is one of the main problem for young people living in the Transnistrian region of Moldova. But authorities and the international community prefer to ignore the real human rights situation in this territory," Promo-LEX Executive Director Ion Manole told the Coalition. "After 30 years of political negotiations, people continue to remain hostage, because they still don't have access to the efficient and legal instruments to protect their rights."
Moldovan journalist Sergey Ilchenko, who was detained in Transnistria for four months on dubious charges in 2015, wrote that Rjavitin could be being tortured to extract a phony confession.
With public pressure mounting, Moldovan officials have begun to take action. At a press conference on January 10, members of the Party of Action and Solidarity – Moldova's second-largest opposition party – asked the government to undertake maximum efforts to find and free Rjavitin. A few hours later Moldovan Reintegration Minister Alexandru Flenchea announced he would discuss the issue with Transnistrian officials.
More progress came on January 15, when officials in Tiraspol publicly confirmed Rjavitin was being held. Flenchea said a Transnistrian negotiator assured him he would discuss providing access for Rjavitin's lawyers, doctors and family members.
"I ask all authorities to provide me with information about his whereabouts, to ensure my rights as a mother to see him, and to inform me of his procedural status," his mother, Irina, said in a video released by Promo-Lex. The NGO is preparing an appeal for intervention to the UN, Council of Europe, Organization for Security and Co-operation in Europe (OSCE), and other regional and international agencies.
Whistleblowing International, the European Center for Whistleblower Rights, and the Southeast Europe Coalition on Whistleblower Protection are working with activists and journalists in Moldova to raise international awareness of this case and apply pressure on authorities to release Alexandru Rjavitin.