High-profile whistleblowers in Serbia, Croatia and North Macedonia suffer harsh retaliation
by Mark Worth
Coalition Co-coordinator
Over the past five years, Southeast Europe has led the world in strengthening whistleblower rights. Thanks to the hard work of policy-makers, activists, journalists and citizens, every Western Balkan country now has a whistleblower protection law on the books. All of these laws contain most European and international standards.
So, whistleblowers have nothing to worry about, right? Wrong.
Three ongoing retaliation cases show that the region has a long way to go before employees and citizens can report crime and corruption without the fear of prosecution, firing and other reprisals. The cases also reveal that strong laws are one thing. Actual protection in real-life situations is something else.
'We have more trust in investigative reporters'
On September 18 the Serbian Security Intelligence Agency (BIA) arrested Aleksandar Obradovic at the Krušik weapons factory in Valjevo. This was three days after Arms Watch reported that the state-owned company was involved in exporting munitions ultimately obtained by Islamic State fighters in Yemen. Krušik is connected to Branko Stefanović, the father of Serbian Vice Prime Minister Nebojša Stefanović, according to media reports.
"I didn't lie or falsify anything. These are the facts – and only part of them – on the dealings of Krušik ," Obradovic told the Balkan Investigative Reporting Network (BIRN).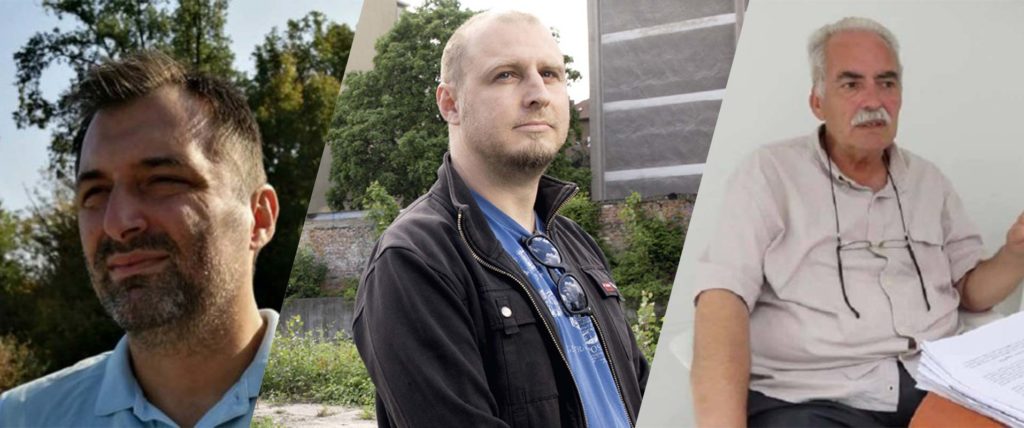 According to BIRN, prosecutors are investigating Obradovic on suspicion of revealing trade secrets, a crime punishable by up to 10 years in prison. He was held in the Belgrade Central Jail until protesters who gathered outside pressured authorities to release him to house arrest.
"If…what Obradovic said about suspected corruption at Krušik is true, that cannot be a crime since the Law on Business Secrets does not cover it," his attorney Vladimir Gajic told N1.
Obradovic told BIRN he didn't trust Serbian authorities to investigate the evidence, so he went directly to the media. "It's pitiful that in this country we have more trust in investigative reporters than in the state's investigative bodies," he said.
Led by BIRN, activists around the world are campaigning for all legal actions against Obradovic be dropped, and for the scandal to be fully investigated. Joining the campaign are the Southeast Europe Coalition on Whistleblower Protection, European Center for Whistleblower Rights, and Whistleblowing International. Obradovic's case graphically illustrates the need to strengthen Serbia's 2014 Law on the Protection of Whistleblowers.
'I will literally decapitate your head'
In Croatia, Mislav Kotarac has been publicly scorned and privately threatened after he alleged widespread corruption and misconduct within Croatia's Energy Efficiency and Environmental Protection Fund (FZOEU). The public agency finances conservation, sustainability, renewable energy and other environmental projects.
This past spring Kotarac went public with the fact that he had regularly reported to Croatian authorities – to no avail – evidence of abuse of authority, recruitment irregularities, property fraud, conflicts of interest, and the non-transparent spending of public funds to influence parliamentary elections. Kotarac detailed his disclosures in the publication Dnevno (in Croatian).
Kotarac has shared with the Southeast Europe Coalition on Whistleblower Protection extensive details about alleged financial and management irregularities at the Fund.
"The Fund always has been and will be in a gray area that does not follow compliance with the law," Kotarac said in a lengthy interview with Dnevno in September. He said internal Fund audits, the state auditor, Ministry of Finance, independent auditing companies and official documents "confirm the existence of a whole series of irregularities in the Fund's operations."
The Fund's then-director, Dubravko Ponos, retaliated against Kotarac by issuing this threat last year: "I will literally decapitate your head." Kotarac tape-recorded the conversation, which eventually was released to the public and led to Ponos' dismissal in October.
"Threats, violence, aggression and profane speech are everyday patterns of Ponos' behavior – with no exception," Kotarac told Dnevno. Kotarac was told Ponos has threatened journalists and editors with lawsuits "so that the truth would not be disclosed to the public," and that Ponos bragged about stopping the publication of "compromising articles."
Kotarac told the Coalition that public officials have "spoken out against me in a series of lies and slander. So it's not easy for me at this moment to live a normal life in Croatia as a whistleblower – as a victim of violence and lies from a corrupt system. But I will survive somehow."
'Overnight public hero and a role model'
In North Macedonia, Education Ministry inspector Gjorgji Ilievski was demoted in May after he alleged three high-ranking government officials – including the education minister himself – illegally received academic titles at the State University of Tetovo.
As part of his official duties as the ministry's chief inspector for higher education, Ilievski discovered university certifications were given improperly to Education Minister Arbr Ademi, Deputy Interior Minister Agim Nuhiu, and State Industrial Property Director Safet Emruli, according to media reports.
To no avail, Ilievski told many public agencies and officials about the irregularities, including his supervisor, prosecutors, anti-corruption officials and the financial police. Ilievski said several high-ranking officials pressured him to keep silent and withdraw his reports, threatened to discipline him, and warned him to be careful because he has a family and children.
Ilievski was demoted to a lower-paying position with lesser responsibilities, which he is formally appealing. He has met with the Dutch and French embassies in Skopje, and informed the local European Union office about the retaliation campaign against him.
"Every day I am being mobbed. I don't receive work assignments," he told the Coalition. "The only institution that has reacted is the public law defender, which found a lot of irregularities. Other institutions are ignoring my complaints and forcing me to seek justice in court."
Though he is set to retire in January 2020, Ilievski said "I intend to go on with my fight." Among other actions, he has asked North Macedonia's Constitutional Court to decide on the constitutionality of allowing former public officials to be given teaching and academic titles. Ilievski was called an "overnight public hero and a role model" by Republika.
The Coalition has advocated on Ilievski's behalf to high-ranking public officials in Skopje and Brussels. Although he has been demoted, as of this writing he has not been dismissed and he continues to receive his salary.