Tell Bosnian Prime Minister Denis Zvizdić to stop the brutal retaliation of Tuzla Kvarc!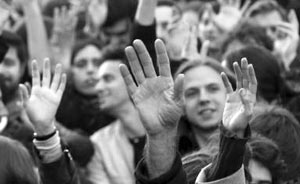 Campaign Central
Activists throughout the region are fighting for whistleblower rights.
Dispatches
PODGORICA – As Western Balkan countries progress toward European Union membership, media freedoms are weakening while attacks on journalists are ever more violent and overt.

Read more

PRISHTINA – In one of her final speeches as President of Kosovo, Atifete Jahjaga requested the county's top judicial officials to pay more attention to whistleblowers –

Read more

SOFIA – Konstantin Ivanov does not want to talk to journalists anymore. "I am fed up with media publicity," he told a friend who approached him with an interview

Read more
Protest letters to Bosnian officials
Coalition member organizations
"The Price of Justice" views
The Price of Justice
The Price of Justice (Cijena Pravde) chronicles Smail Velagić's path from whistleblower to retaliation victim. This new documentary about the Tuzla Kvarc whistleblower scandal was produced by the Center for Responsible Democracy-Luna, a founding member of the Coalition.