Tell Bosnian Prime Minister Denis Zvizdić to stop the brutal retaliation of Tuzla Kvarc!
Montenegro
Whistleblowers Patricia Pobrić and Milisav Dragojević, activist Ana Novaković and Coalition Co-coordinator Kristina Stevančević talk about the challenges and costs of whistleblowing on the TV network Vijesti.
Czech Republic
The Czech Senate has voted 30-21 to support the proposed EU Directive on whistleblower protection. The vote, a huge symbolic victory, was backed by Senator Libor Michálek, a two-time whistleblower and Coalition ally.
Croatia
Commercial Court Judge Mislav Kolakušić is stepping up to support and protect whistleblowers with a new NGO formed in October, Anti-Corruption: "All citizens who are afraid to report corruption should turn to us."

Serbia
A Belgrade court in October ruled in favor of Dr. Borko Josifovski, who exposed criminal ties between emergency doctors and funeral companies. Josifovski was represented by the NGO Pištaljka.
Ukraine
The National Agency on Corruption Prevention endorsed a proposed whistleblower protection law in October that would be the country's first. The measure, developed with input from the Coalition, soon may go to Parliament.

Kosovo
A proposed whistleblower protection law containing many European standards has been sent to the Assembly. The measure, strongly supported by the Coalition, would vastly improve on a substandard 2011 law.
Moldova
Representing a major step in the fight against corruption, Parliament in July passed a comprehensive whistleblower protection law developed with significant input from Coalition members and staff.
Macedonia
The Coalition is strongly supporting efforts by Gjorgji Lazarevski and Zvonko Kostovski, whose disclosures of illegal wiretapping brought down Prime Minister Nikola Gruevski, to be reinstated to their public service jobs.
Greece
Elected officials and public authorities have declined – at least for the moment – to pursue developing and passing a whistleblower protection law, despite the best efforts of OECD anti-corruption experts.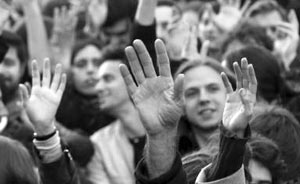 Campaign Central
Activists throughout the region are fighting for whistleblower rights.
Dispatches
Two years after it was passed with high expectations, Albania's whistleblower protection law has gotten off to an uneven start, a new government report shows.

Read more

With the emergence of two proposed whistleblower laws in rapid succession, a debate on protecting whistleblowers suddenly is simmering in Poland – for the first time ever.

Read more

Albania's new Law on Whistleblowing is an essential feature in the entire scope of efforts to fight corruption. The process of drafting the law, officially announced by the Ministry

Read more
On a Mission:
A message from
Coalition founding member
Ana Novaković
---
Ana Novaković, Executive Director of the Center for Development of Non-Governmental Organizations in Montenegro, introduces the Southeast Europe Coalition on Whistleblower Protection.