Tell Bosnian Prime Minister Denis Zvizdić to stop the brutal retaliation of Tuzla Kvarc!
Latest Campaigns and Victories
Albania
Investigative journalist Klodiana Lala, who has exposed political crime and corruption in Albania for more than 15 years, received the Coalition's Free Speech Award at a televised event in Tirana in March 2019. Congratulations Klodiana!
Montenegro
Whistleblowers Patricia Pobrić and Milisav Dragojević, activist Ana Novaković and Coalition Co-coordinator Kristina Stevančević talk about the challenges and costs of whistleblowing on the national TV network Vijesti.
Czech Republic
Following a long campaign by activists and two-time whistleblower Libor Michálek, the country's first-ever whistleblower law is under official consideration. The Coalition supported the campaign and strongly lobbied policy-makers.
Croatia
Several Coalition member groups and activists – including GONG, Center for Peace Studies and Human Rights House – played key roles in passing Croatia's first whistleblower protection law, which took effect in July 2019. A huge win!

Bosnia and Herzegovina
The Coalition is supporting efforts by Parliament member Sabina Ćudić, who exposed the sickening abuse of mentally disabled children at a care home near Sarajevo in November 2019 and is now campaigning for stronger whistleblower rights.

Serbia
The Coalition has joined the international campaign in support of Aleksandar Obradovic, who exposed the role of a Serbian state-owned company in trading weapons that ultimately were obtained by Islamic State fighters in Yemen.
Ukraine
We are very pleased to have contributed expertise and advocacy support to Ukraine's first whistleblower protection law, which passed in November 2019. Under the new law, whistleblowers can be paid rewards of up to €40,000.

Kosovo
We are very pleased to have contributed expertise and advocacy support to Kosovo's new whistleblower protection law, which is one of the region's strongest and a vast improvement on its substandard 2011 law, which was never enforced.
Slovakia
The Coalition is supporting efforts by Transparency International Slovakia to monitor the country's new whistleblower protection law, as well as its #BackingBoldOnes project, which encourages companies to hire victimized whistleblowers.
Moldova
The Coalition has joined the international campaign in support of Alexandru Rjavitin, a 25-year-old army whistleblower who has been held in an underground torture dungeon in the breakaway state of Transnistria since December 2019.
North Macedonia
The Coalition is pleased to have co-led the successful campaign to reinstate whistleblowers Gjorgji Lazarevski and Zvonko Kostovski, whose disclosures of illegal wiretapping brought down Prime Minister Nikola Gruevski.
Greece
Working with Whistleblowing International, the Coalition is working behind the scenes to fight for the rights of an employee fired by a large company after reporting serious safety violations. We are protecting the employee's identity.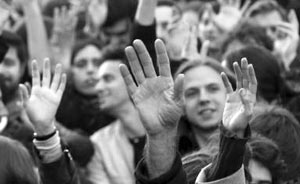 Campaign Central
Activists throughout the region are fighting for whistleblower rights.
Dispatches
In a rare case of public whistleblowing in Montenegro, customs inspector Siniša Raičević told Coalition journalists that imported heating fuel has been improperly taxed for months.

Read more

Two years after it was passed with high expectations, Albania's whistleblower protection law has gotten off to an uneven start, a new government report shows.

Read more

With the emergence of two proposed whistleblower laws in rapid succession, a debate on protecting whistleblowers suddenly is simmering in Poland – for the first time ever.

Read more
On a Mission:
A message from
Coalition founding member
Ana Novaković
---
Ana Novaković, Executive Director of the Center for Development of Non-Governmental Organizations in Montenegro, introduces the Southeast Europe Coalition on Whistleblower Protection.