Tell Bosnian Prime Minister Denis Zvizdić to stop the brutal retaliation of Tuzla Kvarc!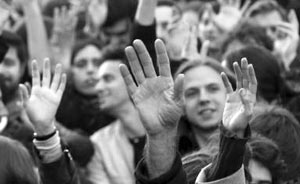 Campaign Central
Activists throughout the region are fighting for whistleblower rights.
Dispatches
11

Jun

With the emergence of two proposed whistleblower laws in rapid succession, a debate on protecting whistleblowers suddenly is simmering in Poland – for the first time ever.

Read more

11

Jun

Albania's new Law on Whistleblowing is an essential feature in the entire scope of efforts to fight corruption. The process of drafting the law, officially announced by the Ministry

Read more

10

Jun

Anti-corruption activists in Moldova are campaigning to stop the illegal collection of "informal" taxes in the education system – even setting up their own whistleblower hotline.

Read more
On a Mission:
A message from
Coalition founding member
Ana Novaković
---
Ana Novaković, Executive Director of the Center for Development of Non-Governmental Organizations in Montenegro, introduces the Southeast Europe Coalition on Whistleblower Protection.