Tell Bosnian Prime Minister Denis Zvizdić to stop the brutal retaliation of Tuzla Kvarc!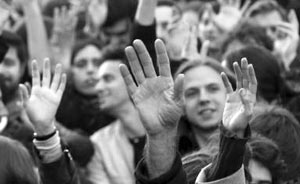 Campaign Central
Activists throughout the region are fighting for whistleblower rights.
Dispatches
Albania adopted a law on whistleblowing and protection of whistleblowers in June 2016. The law was supported by substantial advocacy and input from civil society.

Read more

BELGRADE — Marija Beretka needed to initiate three court proceedings in order to obtain protection as a whistleblower. The case illustrates problems Serbia's new whistleblower law.

Read more

Southeast Europe's burgeoning whistleblower movement has taken another great step with the premiere of the region's first documentary on whistleblowing.

Read more
Protest letters to Bosnian officials
Coalition member organizations
"The Price of Justice" views
On a Mission:
A message from
Coalition founding member
Ana Novaković
---
Ana Novaković, Executive Director of the Center for Development of Non-Governmental Organizations in Montenegro, introduces the Southeast Europe Coalition on Whistleblower Protection.