Tell Bosnian Prime Minister Denis Zvizdić to stop the brutal retaliation of Tuzla Kvarc!
Latest Campaigns and Victories
Albania
An investigative report by the Organized Crime and Corruption Reporting Project (OCCRP) has exposed an international investment scheme that involves high-level Albanian officials, including an adviser to the Defense Minister.
Montenegro
Thanks to a government whistleblower, the Center for Investigative Journalism of Montenegro has exposed evidence that the Customs Administration has been miscalculating fuel taxes many years, harming the public budget.
Regional
We are very pleased to share the first edition of The Southeast Europe Whistleblower Journal. Some of the region's most important whistleblowers, activists and journalists share their stories and experiences in a personal, reflective style.
Croatia
Several Coalition member groups and activists – including GONG, Center for Peace Studies and Human Rights House – played key roles in passing Croatia's first whistleblower protection law, which took effect in July 2019. A huge win!

Bosnia and Herzegovina
Thanks to a whistleblower, the Center for Investigative Reporting reported the illegal use of thermal spring waters by a hotel and spa complex in Ilidža that is majority owned by a prominent political party figure.
Serbia
The Coalition has called for international observers to monitor the investigation and prosecution of whistleblower Aleksandar Obradovic, who exposed questionable arms dealings by a Serbian state-owned company.

Ukraine
We are very pleased to have contributed expertise and advocacy support to Ukraine's first whistleblower protection law, which passed in November 2019. Under the new law, whistleblowers can be paid rewards of up to €40,000.

Kosovo
Internews Kosova, a Coalition partner, has exposed political connections among the public officials chosen to protect whistleblowers under Kosovo's new whistleblower law, raising concerns over their impartiality and independence.
Regional
The Coalition is very pleased to participate in the the Regional Anti-Corruption Initiative's three-year project to improve whistleblower rights in the Western Balkans and Moldova. The project is supported by the EU.

Moldova
The slogan "NU corupției în Poliție!" – "No Corruption in the Police" – has become a rallying point throughout Moldova's General Police Inspectorate. The initiative includes awards for officers who report and corruption.
North Macedonia
The Coalition is pleased to have co-led the successful campaign to reinstate whistleblowers Gjorgji Lazarevski and Zvonko Kostovski, whose disclosures of illegal wiretapping brought down Prime Minister Nikola Gruevski.
Greece
Working with Whistleblowing International, the Coalition is working behind the scenes to fight for the rights of an employee fired by a large company after reporting serious safety violations. We are protecting the employee's identity.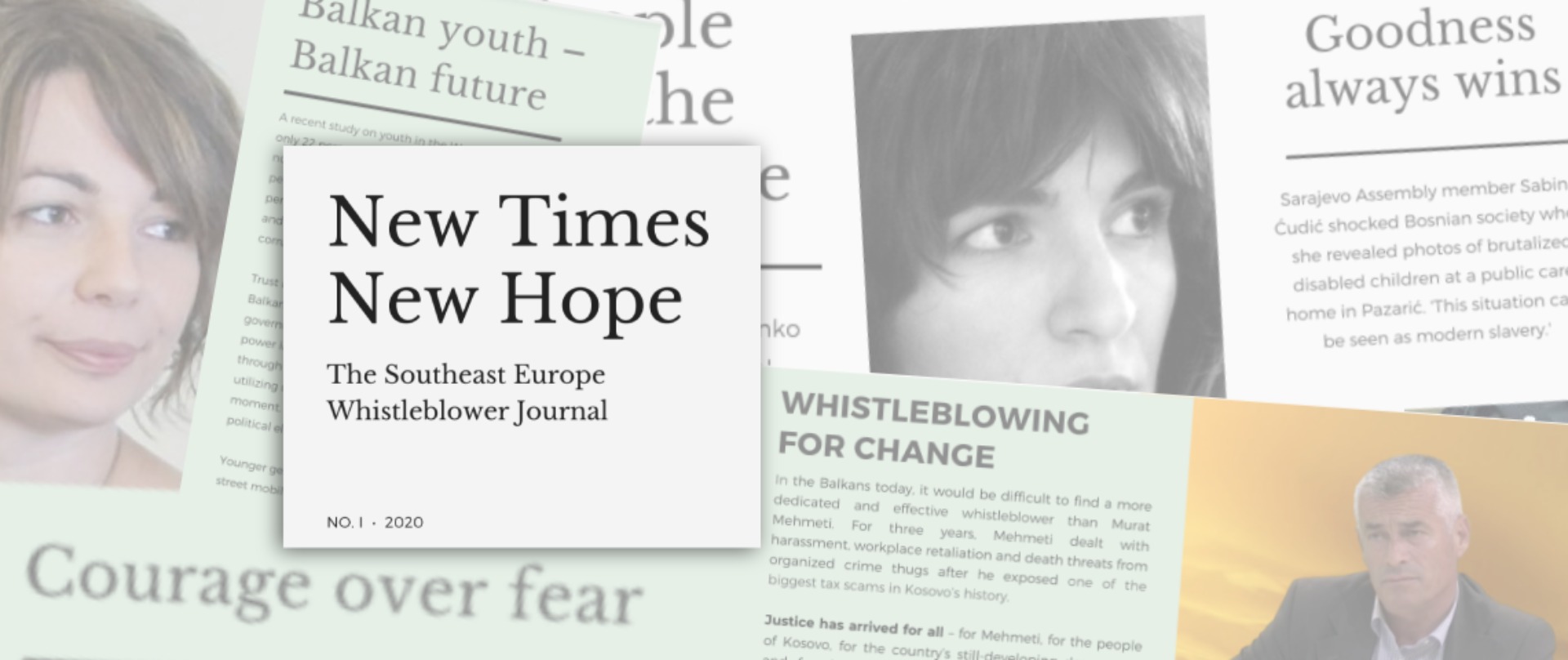 Download
Dispatches
I choose to believe this global crisis will make people care for each other more, think about social well-being more, and demand better political behavior. It is time to

Read more

In a rare case of public whistleblowing in Montenegro, customs inspector Siniša Raičević told Coalition journalists that imported heating fuel has been improperly taxed for months.

Read more

Two years after it was passed with high expectations, Albania's whistleblower protection law has gotten off to an uneven start, a new government report shows.

Read more
On a Mission:
A message from
Coalition founding member
Ana Novaković
---
Ana Novaković, Executive Director of the Center for Development of Non-Governmental Organizations in Montenegro, introduces the Southeast Europe Coalition on Whistleblower Protection.