Tell Bosnian Prime Minister Denis Zvizdić to stop the brutal retaliation of Tuzla Kvarc!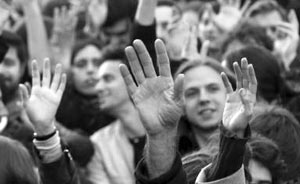 Campaign Central
Activists throughout the region are fighting for whistleblower rights.
Dispatches
One of two employees fired from Sofia's National Art Gallery for criticizing government policy has been reinstated following large demonstrations and public calls for Bulgaria's Culture Minister to resign.

Read more

Whistleblowing is so rare and obscure in Albania that even when Parliament voted unanimously for a comprehensive whistleblower protection law on June 2, the breakthrough barely made a ripple.

Read more

In response to a crackdown on media freedom, a coalition of NGOs including GONG (a Coalition member), Center for Peace Studies, Human Rights House Zagreb, Canadian Journalists for Free

Read more
Protest letters to Bosnian officials
Coalition member organizations
"The Price of Justice" views
The Price of Justice
The Price of Justice (Cijena Pravde) chronicles Smail Velagić's path from whistleblower to retaliation victim. This new documentary about the Tuzla Kvarc whistleblower scandal was produced by the Center for Responsible Democracy-Luna, a founding member of the Coalition.