by Klodiana Lala
An investigative report by the Organized Crime and Corruption Reporting Project (OCCRP) has exposed a global fraud scheme that involves high-level officials within the Albanian government. Journalists from 24 countries collected evidence that citizens were the being victimized by two online investment platforms run by the Kiev-based Milton Group. Owners of the company – Georgian citizens with Israeli passports – had close ties to business people and politicians in Eastern Europe.
Albanian journalist Lindita Çela of OCCRP revealed that the Milton Group had a branch in Tirana. A call center there with more than 400 employees has been owned since December 2017 by Amant Josifi, an adviser to Albanian Defense Minister Olta Xhaçka.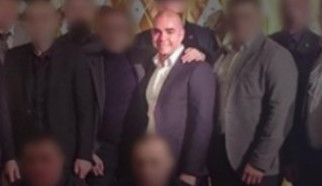 Albanian Defense Ministry advisor Amant Josifi at the Milton Group's New Year's party in January 2020 (photo: Organized Crime and Corruption Reporting Project)
Josifi's call center was working to collect up to €10 million a week from unsuspecting citizens, OCCRP reported. The investigation confirmed that call center employees every day cheated thousands of people who thought they were investing in cryptocurrency stock markets. Some 200 of the fraud victims, living in various European countries and the US, told OCCRP say they thought they were buying shares from multinational firms, bitcoin, or raw materials such as gold, oil and aluminium. But in fact they were misled by fraudulent investments.
When Çela contacted Josifi as part of OCCRP's investigation, the defense minister admitted he owned the Tirana call center but denied being involved in illegal activity. He said he was acquainted with Milton Group's owners through several meetings in Israel and the company's New Year's celebration. He claims he left his role with the company and now is only a "passive owner" without any involvement in its management.
OCCRP's investigation has not triggered any particular reaction in Albania. For unclear reasons, very few media outlets in the country have reported on the scandal, and the Albanian Defense Ministry has not issued an official response.
Official Apathy
Evidence of a public official being involved in a major fraud scheme should lead to a formal investigation, particularly considering Albania is seeking to open EU accession negotiations based on its progress in fighting corruption and organized crime. 
But this has not happened. OCCRP's report on the call center scandal has passed quietly, as have many other recent revelations by citizens and journalists.
In 2014, Fier police official Dritan Zagani blew the whistle on the involvement of then-Interior Minister Saimir Tahiri's cousins ​​in drug trafficking. Zagani said drug kingpin Moisi Habilaj and his ring members used a private car purchased from Tahiri to sell drugs. For a long period, the Albanian prosecution did not consider Zagani's allegations. Rather, Zagani – the whistleblower – was arrested and fled to Switzerland where he was granted political asylum.
Not until 2018 did Italian authorities arrest Habilaj and members of his gang. A year later Tahiri was found guilty and sentenced to five years in prison for abuse of office. The sentence was reduced to 3.4 years and then changed to three years of probation. Albanian authorities still have not acknowledged Zagani's contribution to the case, and he remains on the wanted persons list.
Albanian authorities also did not react adequately to the 2018 revelation by News 24 about fraud in the construction of Tirana's "Big Ring" highway. The Albanian TV channel revealed that Avdjol Dobi, who won two public contracts with a total value of €30 million, used falsified documents to register a company in the US state of Delaware, a well-known tax haven.
Due to the sheer scale of the scandal, prosecutors launched an investigation. But after several months of investigations, only Dobi was indicted – and he remains on the run. None of the other people suspected of being involved in the scandal were held criminally responsible, including the senior officials who failed to uncover the fraud and awarded the contracts to the phony company.
A Crisis of Freedom
It is precisely the failure of Albanian institutions to adequately take actions based on such reporting that employees, civil servants and citizens are reluctant to report corruption. Whistleblowers often are confronted with indifference from authorities, poor-quality investigations or worse – such as disclosure of their identities, which puts them and their families at great risk. 
Public institutions also have not been able to build a mechanism to provide protections for whistleblowers. Moreover, whistleblowers continue to be viewed with prejudice and stigmatized as snitches.
At the same time, the media finds it difficult to develop comprehensive investigations based on evidence from whistleblowers, as long as the facts are relativized and not followed up. If media reports are not based on official documents, journalists very likely will end up in court on defamation charges.
Media freedom in Albania has deteriorated considerably, according to a review by a group that included the Committee to Protect Journalists, Reporters Without Borders and and the South East Europe Media Organisation (SEEMO). Albania recieved only 2 out of 4 points on the question of whether it has a free and independent media, according to Freedom House. Journalists, the organization concluded, "remain subject to lawsuits, intimidation, and occasional physical attacks by those facing media scrutiny."
Often, due to tycoon-based and politically connected media ownership, the media reports on the personal aspects of the lives of whistleblowers, bypassing the substance of their disclosures. In general, the media ownership structure has affected the quality of journalism: very few TV stations or newspapers have special sections for investigative reports, and journalists are required to cover daily news to the exclusion of in-depth reporting.
Steps are needed to overcome this impasse. Solid protection is needed for whistleblowers who reveal misconduct within public institutions so that citizens can learn about corrupt actions when the doors are kept shut to media.
Further, whistleblowers should be assured that cases will be investigated. This lack of trust explains why – three years after Albania's whistleblower law took effect – no cases have been officially registered by any public institutions.
Meanwhile Albania has slid by 23 places in Transparency International's Corruption Perceptions Index – from 83rd in 2016 to 106th in 2019. As pointed out in the 2018 EU Commission Enlargement Strategy for the Western Balkans, countries in the region continue to suffer from "clear elements of state capture, including links with organised crime and corruption at all levels of government and administration, as well as a strong entanglement of public and private interests."
Klodiana Lala is an investigative journalist in Albania and winner of the 2019 Free Speech Award from the Southeast Europe Coalition on Whistleblower Protection.